Natufian & Pre Pottery Neolithic
The first breads were made by Natufian hunter gatherers around 14,000 years ago. Naatufians are the people in southwest Asia that we know for sure first utilized bread grains for bread. We know this because we have proof in the form of archeological remains. Natufians, and the early Neolithic peoples, were working with the wild grains that were eventually domesticated, and that we still know today: wheat, barley, rye, an oats.
The very earliest site where bread has been found is Shubayqa 1, in Jordan. In addition to charred bread crumbs, the site also contained large quantities of a starchy plant, Bolboschoenus glaucous, which was included in some of the the Shubayqa 1 breads. Adding starchy plant material is analogous to our sometimes adding mashed potatoes to our bread dough.
One big difference between the Natufian culture and early Neolithic cultures is that the early Neolithic communities purposefully cultivated wild grains, which the Natufians were not. These first cultivators still practiced hunting and gathering. There are several Neolithic breads that have been analyzed that we could try to replicate, but for today, I'd like to stay less technical. And more creative.
Archeologists work with carbonized crumbs, such as the one pictured, above. Current regional ethnographic practice that sees flatbreads as disks may not completely reflect ancient practice. While a disk is the most convenient shape for production flat breads, the Natufians and early Neolithic peoples were not making production flatbreads. Even today, for example in Ukraine and Sardinia, women sit around tables making meticulously shaped breads for ceremonial occasions.
If you will look up Natufian art online you will find that these people had a high level of material culture, and the decorative arts were well developed. You will also find some extraordinary images of art from early Neolithic communities.
I would like to focus on the exact formulas for early breads extracted from archeobotanical texts at another time. For this seminar, I suggest you make sculptures out of a stiff dough made from flour that ranges from whole grain down one that would be the produce of a 500 micron screen. Even if white flour existed at the time, and whitish flour probably did, this project requires a less refined flour so that the baked bread will still be palatable.
We have no idea whether sculpted bread actually existed in this early bread period. But, why not? Shaped breads are known from Mesopotamia and Egypt, and they are known today. I would let your imagination be free. You can work from known period images — search online for Natufian and Neolithic Art — and also from your imagination. Animal figurines, for example. This link will take you to the incredible scythe handle, below, at the Museum of Israel where you will also find other well reproduced images of art created by the Natufians and other early residents of southwest Asia.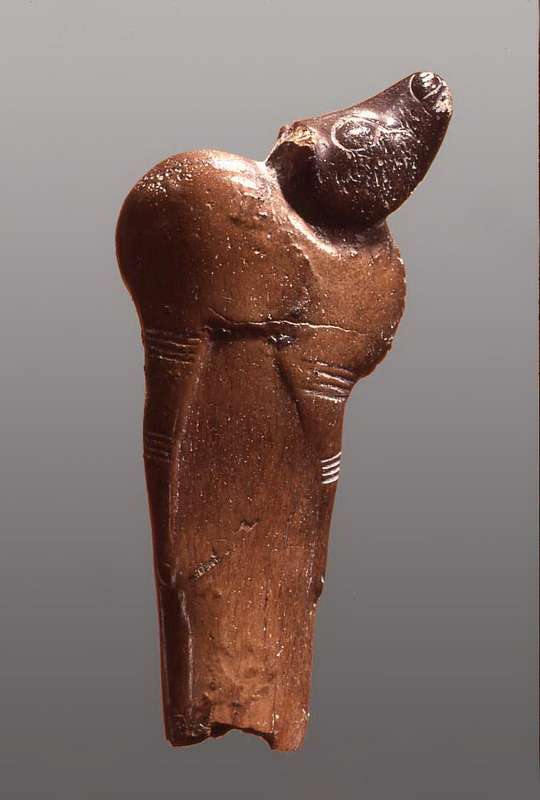 These next images are of faces from Natufian and early Neolithic communities.
The sculpture, below, is at the British museum. It is Late Natufian and is the first art work we know of that depicts humans having sex.
This patterned Natufian pattern in clay would make a beautiful bread.
Recipe
For Thursday, please have your dough mixed, and then together we will make shapes, sharing our ideas as we go along.
Ingredients: You cannot go wrong with using wheat and barley. In terms of ancient grains, then, in order of domestication we first have first einkorn, then emmer, and then common bread wheat and spelt. They also had, rye and oats. Feel free to mix different flours.
If using flour that you purchase, then I would use a finely ground whole grain flour. Thicker unleavened breads require some bran so they are still palatable after baking.
If you make your own flour. Flour will have been ground just before use on a basic quern. Evidence suggests that grains were well cleaned before milling. The earliest Natufian bread so far analyzed had particle sizes as follows: 41% of the particles were under 300 microns, which is white flour, 29% were between 300 microns and 1000 microns, which in British English is semolina, and another 29% is greater than 1mm. The paper doesn't specify the largest particles, but does say that the flour is clean of chaff, stones, or other large impurities. The mix of sizes could be the pure product of milling on a quern, so this would be that miller's whole meal. It is also possible that the largest particles were sifted out. To make your own, I would temper your grain to 15%, mill fine, and sift through a 1.5mm to 2 mm screen.
If you want a more refined flour, then archeobotany from a later early Neolithic site suggests that a flour with particles less than 500 microns would be appropriate. That is the flour I am using. A 500 micron or less flour is similar to the wheaten flour we discussed in the last session on the English Medieval Assize regulations.
500g mixed flours, commonly wheat & barley,
250g-300g water to form a stiff dough
Knead until supple. Then, break into pieces the size you want to work with. Shape with your hands. It is often helpful to start with a ball. Use tools as needed to sculpt and/or pattern your bread.
Bake in a moderate oven, 175C, 350F. Early Neolithic households in some parts of southwest Asia all had small ovens in their houses. Alternatively, if you have had a fire going for at least a day in your fireplace, then bake in a mix of ash and embers.
I had originally thought that we might attempt a bread baked between tiles inspired by an archeologist's speculation for a Harappan bread. I have been testing the idea, and don't have enough success to bring it to the seminar this week. Here is the image that inspired me. The archeologist who published this photograph speculated that the triangular piece of terra cotta might have been for baking bread. If so, they would have heated tiles in the fire, pulled them out of the fire, and then baked brads on the tile's residual heat.